Sindh educational institutions over the province will remain closed until further instructions from the Sindh government. The provincial government had declared that Sindh schools would remain closed until August 30. Sindh Chief Minister Syed Murad Ali Shah said teachers, staff, and parents should be vaccinated before schools reopen.
A new notification says education institutions were to stay closed "till further orders."
"It has been decided to open educational institutions after ten days. They will open on August 30, "he said. Sindh Education Minister Sardar Shah said schools would be reopened with only 50% students, and educational institutions with full immunization rates would be 100% student capacity.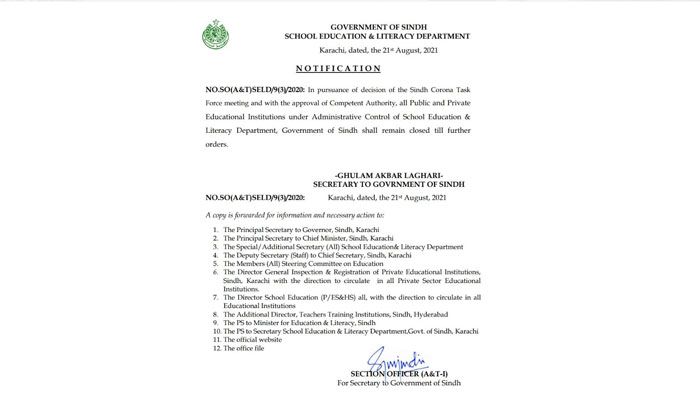 Mandatory Vaccination
The minister had said that closing and reopening schools were not the solutions and that a different approach should be taken that would not harm student education, so "one of the student's parents will have to hand over the vaccination certificate issued by NADRA to the school authorities," he said. It is fair to say that according to the decision of the Inter-Provincial Education Ministers Conference (IPEMC), educational institutions were opened throughout Pakistan except for Sindh, where the positivity rate was much higher compared to other provinces.
Sindh Minister for Universities and Boards Ismail Rahoo
The Sindh Department of Education has issued a notice to keep educational institutions closed until further information states that the fourth wave of Covid is dangerous due to the mutated strain.
Sindh Minister for Universities and Boards Ismail Rahoo has instructed students, teachers, and staff to be vaccinated against coronavirus. From August 30, unvaccinated people will not be allowed to enter the premises. Meantime, the BA / BSc and MA exams in the state are being scheduled, however universities have been directed to confirm the implementation of coronavirus SOP during the trials.
How useful was this article?
Please rate this article
Average rating / 5. Vote count: