Talha Talib becomes a national hero due to his performance in Tokyo Olympics
After a 44-year gap, Pakistan appeared in a weightlifting competition at the Tokyo Olympics, with Talha Talib representing the country at the international level. Talha's performance at the event gave the country hope that Pakistan could earn its young men's medal in weight lifting at the games, but the athlete failed.
Weightlifting competition
Young weightlifter Talha Talib, who competed in the 67kg men's weightlifting competition, was in the race for a while before passing Chinese, Colombia, and Italy runners-up in the final. The 21-year-old weightlifter entered the race without a coach but showed some strength. Talha, a gold medalist at the nation Games, finished fifth in the competition. Although he was not able to win an award, he received international acclaim for his excellent work.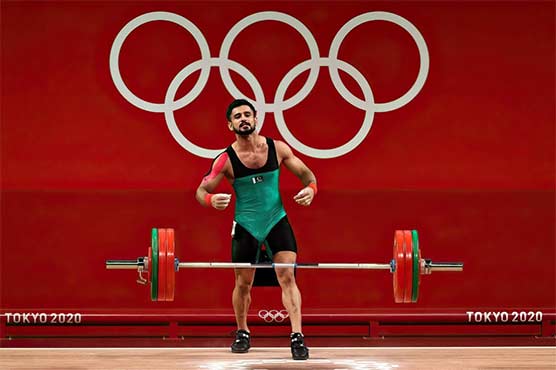 Still Proud of You: Talha Talib
Talha is the first weightlifter of 46 years to represent Pakistan at the Tokyo Olympics however, he lost the Pakistani Olympic medal but turned many heads as Pakistan kept its focus. Although he did not win the Olympic medal, due to his performance, Pakistan is proud of Talha and is praised and made a trend on social media micro-blogging website Twitter.
Pakistani weightlifter got the fifth position in 67kg category
The young Gujranwala weightlifter, who made his Olympic debut, competed in the 67kg category and clinched the gold medals until the final round before falling to the ground and being denied the podium.
Pakistani weightlifter ranked fifth in the 67kg category with a total weight lift of 320 KG. It is noteworthy here that the 21-year-old appeared for the first time at the Olympics. Talha previously won a gold medal for Pakistan at the Commonwealth Youth Championships in Penang, Malaysia, in 2016; furthermore, he also won silver at the 2015 Commonwealth Youth Games in Apia in Samoa.
Many people have taken to Twitter to support Talha for how close he is to winning gold at the Olympics.
Here are some reactions of the people:
Yasir revealed how far Talha had traveled after missing out on the medal.
Journalist Shiraz wondered what Talha could do if he had the right resources.
PTI Senator Faisal Javed also applauded Talha for his heroes and called on the Pakistan Sports Board to wake up
How useful was this article?
Please rate this article
Average rating / 5. Vote count: