Duke and Duchess of Cambridge arrived in Pakistan for a five-Day visit
Prince William and Kate Middleton arrived in the Capital city of Pakistan 'Islamabad' on 14th October, Monday at 9pm.
The Foreign Minister Shah Mehmood Qureshi Welcomed them on their First Visit to Pakistan.
The couple has traveled around the world but their spokesman stated that it will be their "most complex" tour because of the security reasons of this Country.
The royal couple was asked by the British Government to travel here to help in maintaining a good relation between Pakistan and Britain.
It is said that the Dutch and the Dutchess will meet Prime Minister Imran Khan and President Arif Alvi on the 15th of October.
On the other day they will have a tour to the Most famous buildings of Pakistan in Punjab and then a tour to Chitral.
It is not just the First time that the British Royals visited Pakistan.
On 23rd September,1991 Princess Diana's first official solo tour was in Pakistan for the same cause.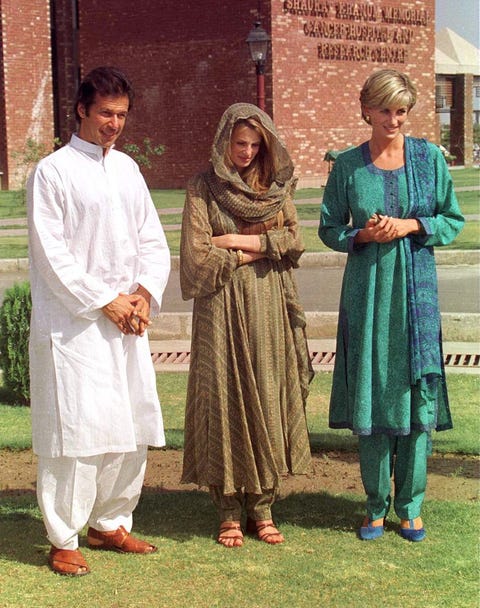 Kate channeled Princess Diana's style on this Royal Visit, turquoise shalwar kameez by Catherine Walker who was Diana's one of the most favorite designers.
The look was similar to Diana on her visit to Pakistan
On a visit to the Islamabad Model College for Girls, the couple spoke to children, including 14-year-old Aima, who told him she and her classmates were "big fans" of his mother.
The prince and his wife also visited the Margalla Hills National Park in the foothills of the Himalayas, before travelling to Mr Khan's official residence in Islamabad for a private lunch.
The duke told how everyone laughed at the time, when Mr Khan announced his ambition of becoming prime minister to William and his mother Diana, Princess of Wales.
How useful was this article?
Please rate this article
Average rating / 5. Vote count: