The drama is composed by Abdul Khaliq Khan and it is coordinated by Barkat Sidiqi.
The cast includes Zahid Ahmed, Sonya Hussyn, Mansha Pasha and Javaid Sheikh.
The scene starts with Ulfat as Sonya Hussyn dreaming herself as a super-rich woman. This is a character whose mind rotates around money yet clearly she is indicated as a money saver.
Shahan as Zahid Ahmed is very amazingly is doing the role of a person who loves his wife and child, and all he needs is to satisfy them.
When Shafaq as Mansha Pasha entered into the office and went to Shahn. He behaves like she's the normal person, he did not know that Shafaq is the new boss of the office. When he get to know he thought after this misbehave Shafaq will fired him so he himself said to her that he has already emailed his resignation to her.
When Shahan breaks the updates on his losing the job to his family. Ulfat acts like a sensible and reasonable wife telling her husband that for her he is the most important individual in her life. Here it is setting up the way that for Ulfaat her first love is her husband.
Shafaq gets back to Shahan at his office and reestablishes his job by encouraging him to talk less. Shahan is happy that he got his position back. It appears that Shafaq has built up a sort of feelings for him.
Ulfaat is eyeing toward on a wonderful gold jhumkas which she finds in a magazine and Shahan is setting aside cash throughout the previous 4 years and this time he has finalized that he is going to get her those jhumkas. Shahan's gets robbed at the road and he is worried that how is he going to confront Ulfaat.
So his friend's recommendation him that to gift her fake jhumkas which almost resemble that. Shahan gifts her the jhumkas and she asks him are they genuine, he lies about it. Ulfaat wears them and she gets mocked by her companions on lying as they know its fake jhumkas.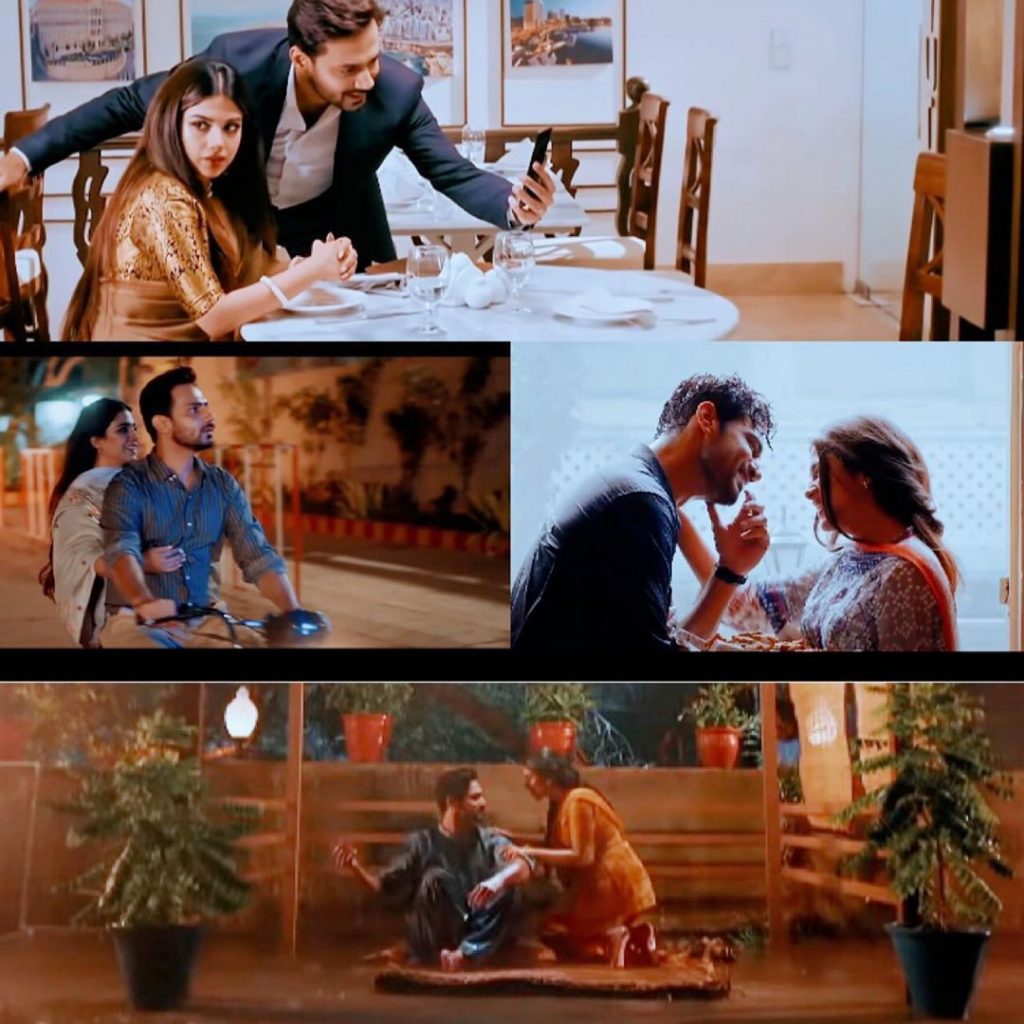 Shafaq's father gets cardiac arrest, he is calling on Shafaq's number but she is busy in a board meeting. Shahan coincidentally aattends the call. He tries to bump into the meeting to give Shafaq her phone but she tells him not to disturb her, she is busy.
He ends up saving Shafaq's father's life by taking him to the hospital on time, but Shafaq behaves so rude that how dare he is to touch his phone and she fired him directly. When she get to know she felt sorry for him.
When Shafaq saw Ulfat at shopping mall. She tries to tempt her by offering her to have some shopping and offers her to order lunch but she rejected all the offers, at the end Shafaq asked Ulfat to convey her message to Shahan to once meet her and she is offering promotion to him.
Ulfaat is insisting Shahaan to join back his office and he finally joined his office just for Ulfat. Shafaq has a disturbing past, a failed marriage which is by all accounts an abusive relationship. It is indicated that her past is still scaring her and now when she sees Shahaan romancing with his wife constantly, she has begun developing feelings for him. She is clearly showing feelings towards him.
How useful was this article?
Please rate this article
Average rating / 5. Vote count: