Mor Moharan is an upcoming drama that airs on TV ONE channel where the lead roles in Mor Moharan drama were performed by the talented Zahid Ahmed and Sonya Hussain. This serial will be a wonderful addition to the successful TV ONE journey where the Viewers will see their favorite actors in an exciting role. Let's look at Mor Moharan drama serial characters and a story full of details.
Drama Cast- Mor Moharan :
Sonya Hussyn as Rohi
Zaid Ahmed as Gardezi
Babar Ali as Sher Alam
Samiya Mumtaz as Almas
Mustafa Changazi as Sikandar
Adnan Jaffar as Faroze Kabir
Firdous Jamal as Malook Shah
Writer:
The writer of this drama is Ali Moeen.

Director:
Owais Khan is directing the drama.

Producer:
The drama producer is Seema Taher Khan.

Release Date:
14 December 2021.

Timings & Day:
Every Tuesday at 8:00 pm.
Storyline:
The drama story is full of doubts, actions, and emotions. The drama story is based on a long battle in the desert, a fight between the younger generations of the mysterious desert. However, Sonya Hussian plays the role of a princess of the desert, a brave and beautiful girl who can do anything for her family. Viewers will see the amazing love story between Zahid Ahmed and Sonya Hussain. The drama will highlight the beauty of the Pakistani desert and historical buildings.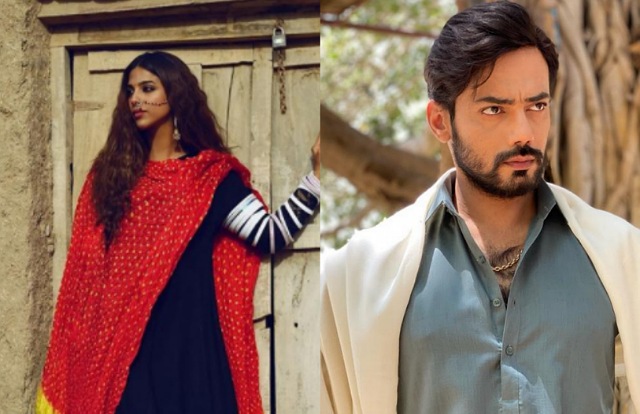 Drama Teaser 1:
In its appearance, the drama is picturizing in the desert. We can see the love triangle between Sonya, Zahid, and Mustafa, but it is unclear yet.
Drama Teaser 2:
Zahid Ahmed shared a second teaser showing a very different side of the drama where he described it as a drama centered on the struggle for water in the desert, a battle between sons and daughters in the desert.
We have seen and praised many of the hottest dramas such as 'Ishq Zahe Naseeb' and 'Muhabbat Tujhe Alvida.' Fans are well aware of the chemistry of Sonya and Zahid on screen. They must be appreciated for choosing unusual stories and always give their fans something different to watch and enjoy.
How useful was this article?
Please rate this article
Average rating / 5. Vote count: