Discover Zong Call Packages:
Zong, Your Trusted Mobile Network in Pakistan:
The leading mobile network operator in Pakistan, catering to the communication needs of millions of users. They offer various Call, SMS, and internet packages designed to suit your specific requirements. Among their offerings, you'll find the Monthly Call, Monthly Call Plus, and Weekly Call packages, each crafted to meet the demands of frequent callers.
Monthly Call Package: Stay Connected All Month Long:
Do you love talking to your friends and family on Zong numbers? Then, the Monthly Call package is tailor-made for you. For a monthly subscription fee of just Rs. 200, you'll enjoy a bundle of 1000 Zong minutes, with a validity period of 30 days.
Monthly Call Plus Package: More Than Just Calls:
The Monthly Call Plus package is an excellent choice for those seeking a comprehensive package that covers more than just calls. Priced at only Rs. 250 per month, this package includes 2000 Zong minutes, 100 off-net minutes, and 100 SMS to all networks.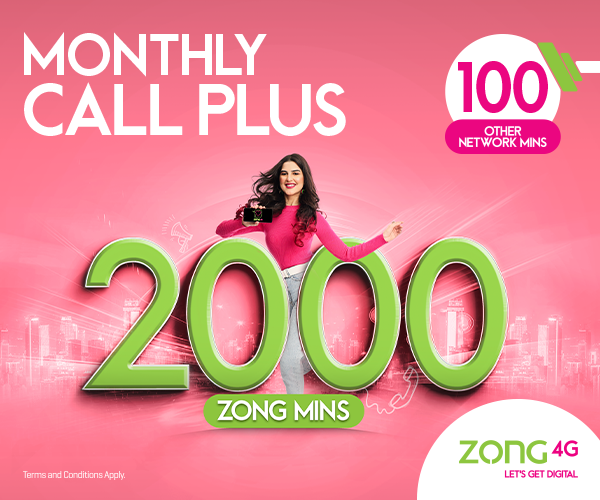 Weekly Call Package: Perfect for Busy Weekdays:
Busy weekdays with lots of calls? The Weekly Call package has got you covered. For a weekly subscription fee of Rs. 90, you'll enjoy 500 Zong minutes, 40 off-net minutes, and 500 SMS to all networks.
Compare Your Options
| | | | |
| --- | --- | --- | --- |
| Feature | Monthly Call | Monthly Call Plus | Weekly Call |
| Zong minutes | 1000 | 2000 | 500 |
| Off-net minutes | 0 | 100 | 40 |
| SMS to all networks | 0 | 100 | 500 |
| Validity | 30 days | 30 days | 7 days |
| Subscription fee | Rs. 200 | Rs. 250 | Rs. 90 |
How to Subscribe to Zong's Call Offers:
Subscribing to this network Monthly Call, Monthly Call Plus, or Weekly Call offers is quick and easy. Just follow these steps:
Monthly Call: Dial *4142#
Monthly Call Plus: Dial *4143#
Weekly Call: Dial *4141#
Alternatively, you can subscribe through the Zong app or visit an outlet.
Read More: Zong 4G Launches Affordable Roaming Bundle for Iran Ziyarat Pilgrims
Choosing the Right Zong Call Offer for You:
The ideal call offer depends on your unique needs and budget. The Monthly Call or Monthly Call Plus packages are excellent choices if you frequently call Zong numbers. On the other hand, if you make many calls during the week, the Weekly Call package suits you best. If you're still uncertain about the right option, don't hesitate to contact Zong's customer support for personalized assistance. They're here to help you choose your communication needs best.
How useful was this article?
Please rate this article
Average rating / 5. Vote count: