Pakistan State Oil (PSO) has decided to keep its operating company and fuel pumps open during the strike," the PSO said. Petrol pumps are all over the country have been crowded since Tuesday morning because petrol will not be available to the public from Thursday, 6 p.m. Only ambulances will be able to get fuel from Thursday. However, Pakistan State Oil (PSO) has decided to keep its stations open throughout the strike.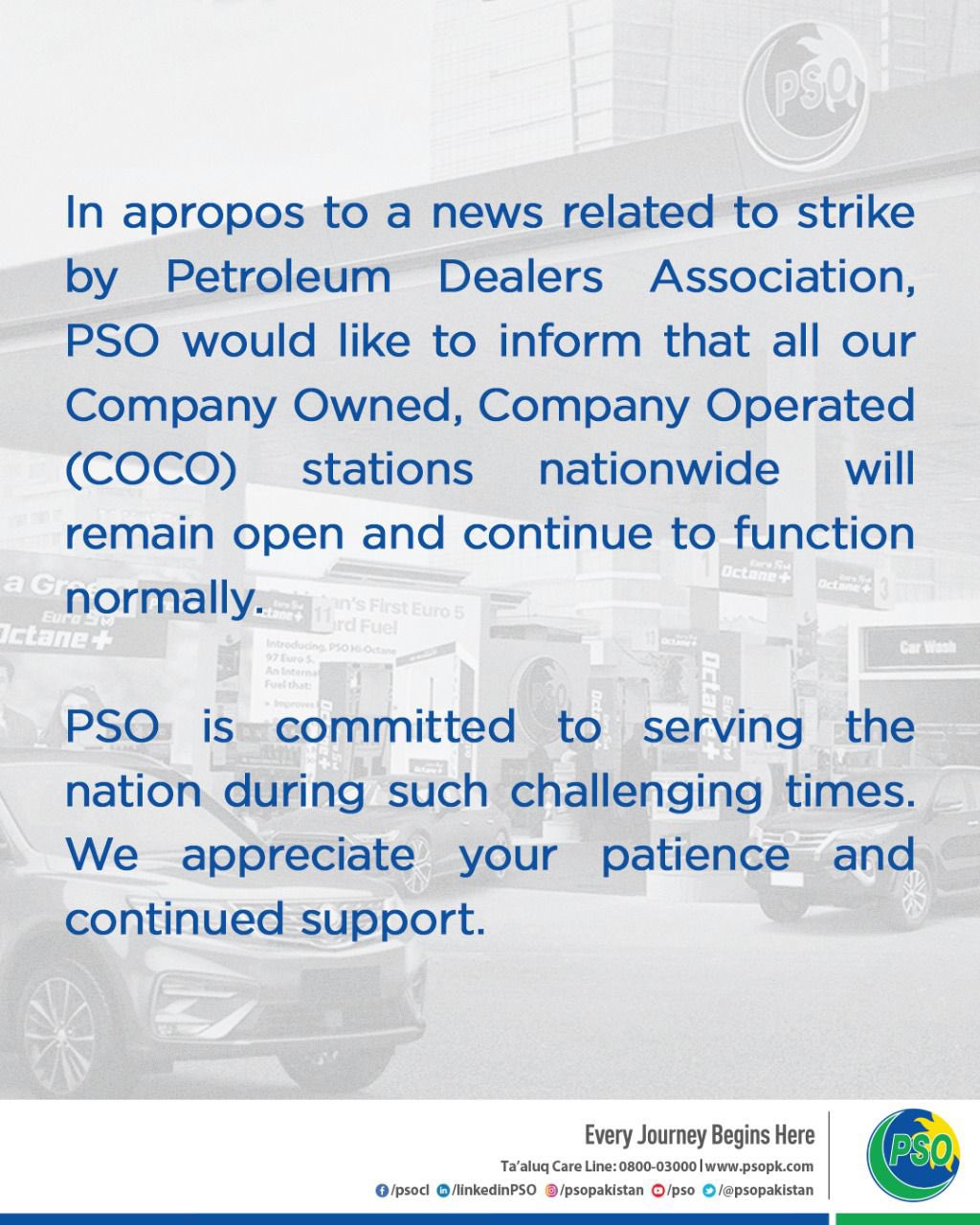 All of our corporate-owned and operated operational (COCO) stations across the country will remain open and will continue to operate normally," the statement said. "As always, the PSO has stood firm with the nation in such difficult times," he added.
Here is a list of PSO petrol pumps that must be kept open during a strike:
KARACHI
Clifton Road Karachi
SD / 2 block akda scheme no 2 North Nazimabad
M.S.11, Korangi, Karachi
The main P-I is Khyaban-e-Ittihad, Karachi
Abdullah Shah Ghazi Clifton Karachi
28 A-9, Main Korangi Road, Karachi
Near the KDA workshop in Shahrah-e-Faisal
QUETTA
Quetta Chaman Road
PESHAWAR
KHYBER ROAD, PESHAWAR CANTT
M / S Metro F / S G.T. PESHAWAR ROAD
NEAR KW.C OFFICE MARDAN
RAWALPINDI
PAK SECRETARIAT ISLAMABAD
13 TITLE ISLAMABAD
AIRPORT ROAD CIVIL LINES RAWALPINDI
3A THE MAALL RAWALPINDI
COLLECTION OF DIPLOMATIC ISLAMABAD
SUKUR
LARKANA BY PASS ROAD, DEH
Near AYUB GATE SUKKUR
MULTAN
MULTAN BYE PASSES MOUZ
Near PUL MAUJ DARYA MULTAN
HYDERABAD
Sanghar Road
FAISALABAD
LIAQUAT ROAD FAISALABAD
Petrol companies had previously announced it would strike on November 5 following a call by a major corporation to demand a commission increase. Still, after talks with the government, they called off the strike. In a press conference, the oil refinery Owais Arshad said petrol pumps would strike on November 6 to protest the commission's unchanged commission for years.
Read also: Sugar industry: PM to launch track and trace system On 23 November.
How useful was this article?
Please rate this article
Average rating / 5. Vote count: