"Dil Hi Tou Hai," a highly anticipated drama serial, has unveiled its first teaser trailers, featuring Ali Ansari in the lead role. However, the show promises a unique love story. Let's explore the key details and insights about this upcoming drama.
Teaser Buzz:
"Dil Hi Tou Hai" has generated immense excitement among fans with its teaser releases. The first teaser has already garnered over 221K views on YouTube, while the second teaser has reached 75K despite being released only a few hours ago. The teasers hint at a captivating blend of love, emotions, and intriguing plot twists.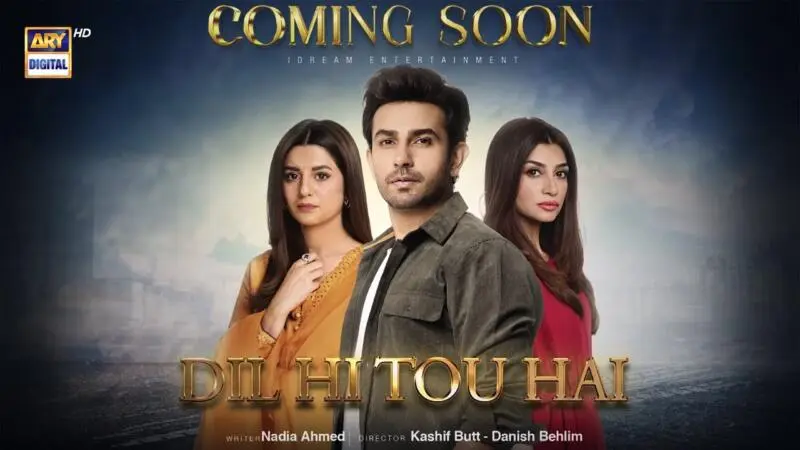 Plot Expectations:
While "Dil Hi Tou Hai" holds the promise of an unconventional love story, the teasers may leave viewers with the impression that it could evolve into a typical love triangle, ultimately resolving with characters marrying the right person. The actual storyline remains a mystery.
The cast of "Dil Hi Tou Hai":
The drama's creators have unveiled an impressive cast list, featuring notable names expected to bring depth to the show. The cast includes:
Ali Ansari
Zoya Nasir
Maria Malik
Hammad Shoaib
Khalid Anam
Fans are eager to witness the performances of these talented actors, and expectations are high for their contributions to "Dil Hi Tou Hai."
Writer:
Nadia Ahmed, a relatively new but successful writer, is the creative force behind "Dil Hi Tou Hai." She has previously penned four hit dramas, including:
Sila-e-Mohabbat
Teri Raah Mein
Tehra Aangan
Mann Aangan
Anticipation is building to see the unique narrative she will bring to this latest project.
Direction Duo:
The direction of "Dil Hi Tou Hai" is in the hands of two emerging directors: Kashif Butt and Danish Behlin. Danish Behlin, known for his work on web shows and films like "XXL" and as an assistant director on "Dushman e Jaan," joins forces with Kashif Butt, who has experience as an associate director on the hit drama serial "Sar-e-Rah." This project marks a significant opportunity for both directors to showcase their talent.
Production House:
The drama is produced by iDream Entertainment focusing on Mohammad Jarjees Seja. The production house boasts a track record of successful dramas, including:
Sar-e-Rah
Tumse Mil Kay
Teri Raah Mein
Samjhota
Shehnai
Pehli Si Muhabbat
Muqadar Ka Sitara
Mujhe Wida Kar
Mere Apne
Khwaab Nagar Ki Shehzadi
Kaisi Teri Khudgarzi
Sukoon
Expectations are high for iDream Entertainment to deliver another compelling production with "Dil Hi Tou Hai."
Also Read: Working Women- The Upcoming Drama Serial By Green Entertainment
Release Information :
"Dil Hi Tou Hai" will soon be available on ARY Digital. More details will be revealed in the coming days, including its OST and timing. Stay tuned for updates on this exciting drama serial.
How useful was this article?
Please rate this article
Average rating / 5. Vote count: