The Xiaomi 12S series will be unveiled next week, including the 12S, 12S Pro, and 12S Ultra. As the name implies, the Xiaomi 12S Ultra will be the most powerful series phone and a direct fan of last year's Mi 11 Ultra. However, the Chinese model has announced that the 12S Ultra will feature the world's largest camera sensor, the Sony IMX989. As the teaser campaign continues, Xiaomi shares new information on upcoming phones almost daily. Moreover, the caption below shows the new 1″ camera sensor compared to the old one.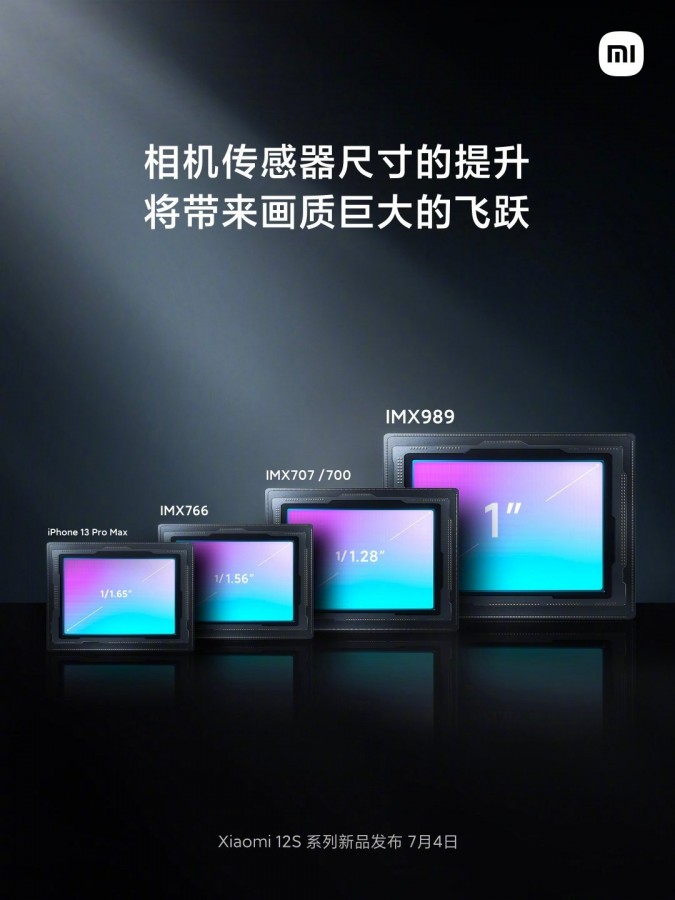 Camera setup:
It is not yet clear if Xiaomi will use the entire 1-inch sensor. The Sony Xperia Pro I, also with a 1 ″ sensor, used only its center. However, this allows companies to use the smallest lens while benefiting from larger pixels, but technically, the whole sensor has not yet been used. Moreover, the Xiaomi 12S Ultra will have a much larger camera setup than the Xperia Pro I so the Chinese phone may use a 1″ sensor, but it will still be visible.
More Details:
The Xiaomi 12S Ultra will launch on July 4 in China. It will run MIUI 13 based on Android 12 out of the box. The phone is expected to be powered by Qualcomm's Snapdragon 8+ Gen 1 Soc, with up to 12 GB of LPDDR5 RAM and 512 GB of UFS 2.1 storage. It will probably pack a 4,800mAh battery with 67W wireless charging and 50W wireless charging support. Now that the caption campaign has officially launched, we expect to hear more information on upcoming phones soon. Moreover, rumors say the 12S series will be limited to China, but there is no guarantee yet.
Read More: Xiaomi Announce to Launch Xiaomi 12 & 12 Pro Smartphones in Pakistan
How useful was this article?
Please rate this article
Average rating / 5. Vote count: