Ufone introduces the SIM Lagao Offer 2023, providing complimentary minutes, SMS, and internet for 60 days. Simply reactivate your Ufone SIM card and dial the designated code to avail the benefits.
Get Ready for Free Data Every Month with Ufone Band SIM Offer 2023!
If you're looking for awesome deals on the internet and more, Ufone has got you covered. Being Pakistan's leading telecom provider, Ufone always has budget-friendly offers to keep you connected without breaking the bank.
Introducing Ufone Band SIM Offer 2023: A Treat for Our Subscribers
Are you someone who hasn't used your Ufone SIM for the past 30 days? Well, here's some exciting news for you! Ufone is rolling out the Band SIM Offer code 2023, created especially for subscribers like you. This offer is a fantastic way to get back .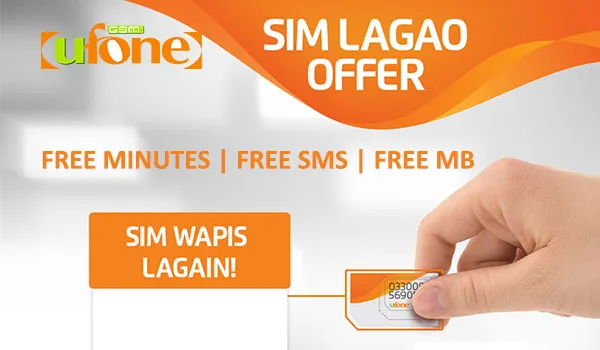 60 Days of Free Data Bundle – No Recharge Needed
No worries if you've been out of touch with your Ufone SIM! With the Ufone Band SIM Offer, you can enjoy a free data bundle for a whopping 60 days and don't need to recharge your account. It's Ufone's way of welcoming you back.
Simple Steps to Activate Ufone SIM Lagao Offer 2023
Curious about how to get in on this amazing deal? It's easy peasy! Just dial a special code provided by Ufone, and voilà – you're in for a treat. You'll unlock many fantastic perks that we're about to reveal.
What You'll Get:
By diving into the Ufone SIM Lagao Offer 2023, you're not just getting free data – you're getting a whole lot more. Stay tuned to discover all the awesome incentives waiting for you. So, what are you waiting for? Revive that silent Ufone SIM, dial the code, and let the perks rain in!
Rediscover Ufone with the Exciting SIM Lagao Offer 2023!
Have you been away from your Ufone SIM for more than 30 days? Ufone has a special treat just for you! It's called the SIM Lagao Offer 2023, and it's all about bringing you back with a bang. By switching back to Ufone, you'll enjoy fantastic rewards:
Enjoy Twice!
With the Ufone SIM Lagao Offer, you're in for not one, but two cycles of 30 days each. During each cycle, you'll receive:
3000 minutes to call your Ufone and PTCL buddies
3000 SMS to connect with anyone across Pakistan
3K MB of data for endless browsing
That's not all! Every day for 60 days, you'll also get:
Chat for 50 minutes
50 SMS to share smiles
50 MB of data to stay online
Extra Perks for Being Awesome
Feeling extra chatty? Spend just Rs. 5 or more in a day, and Ufone's giving you even more:
50 extra Ufone to Ufone and PTCL minutes
50 bonus SMS
24 hours 50 additional MB of data
Activating the Offer:
Ready to jump in? Follow these simple steps to activate the Ufone SIM Lagao Offer 2023:
Pop in your unused Ufone SIM.
Dial *5000# from your phone.
When you get a confirmation message, you're all set.
Enjoy 60 days of free goodies!
Check If You're In!
Before diving in, you can quickly check your eligibility by calling 333 or emailing customercare@ufone.com. You're probably in luck if you've not used your Ufone SIM for over 30 days!
Why Embrace Ufone's Offer?
Ufone knows how to keep you connected without emptying your wallet. With free calls, messages, and internet for two months, you can catch up with friends, enjoy entertainment, and stay active on social media. Ufone offers affordable and trustworthy services as one of Pakistan's top telecom operators. With wide network coverage and speedy internet, they're here to keep you connected. Manage your account effortlessly through the My Ufone app – from recharging to checking usage history.
Read More: Ufone Introduces Latest Offers: Weekly Digital Offer and Weekly Max Offer
Don't Wait – Dive Back In!
Don't miss out on the Ufone SIM Lagao Offer 2023. Revive your Ufone SIM and relish this fantastic deal. Share your thoughts and questions in the comments – Ufone is eager to hear from you!
How useful was this article?
Please rate this article
Average rating / 5. Vote count: