The Pakistan Telecommunications Authority (PTA) paid attention to the news with respect to tax reduction on mobile recharge on the social networking site and gave a clarification.
An announcement gave by the PTA representative said that after the authorization given by the Supreme Court of Pakistan in April 2019, cell phone operators will be needed to recharge retaining, general sales tax and Receiving government excise obligation.
The PTA explained that the claim of Rs 48 deduction and Rs 152 balance on Rs 200 recharge via web-based media is unverified and unproven.
Pakistan Telecommunications explained that cell phone operators are demanding 19.5% General Sales Tax (GST) on calls, other than organizations are likewise collecting charge on SMS, Internet or different bundles.
The PTA said in an explanation that because of absence of awareness about tax deduction, customers regularly complain about higher tax collection from phone administrators, which isn't correct.
The announcement said that they have set a limit of Rs 0.15 per call setup charges. Strict move can be made against an organization getting more than this if complain is registered.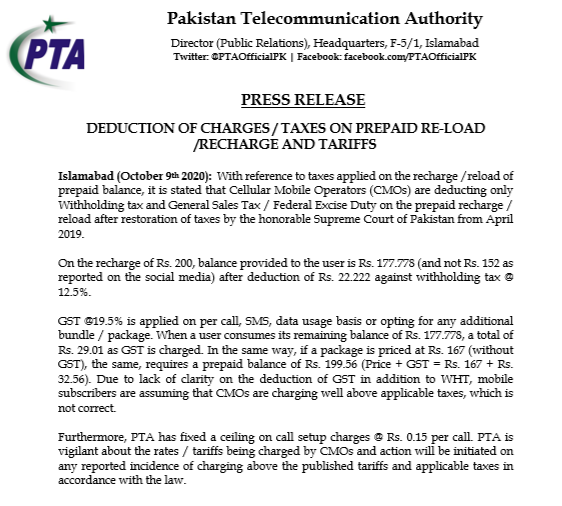 How useful was this article?
Please rate this article
Average rating / 5. Vote count: