Data sharing mandatory from February 2021:
It is mandatory to share data with Facebook otherwise the company will not allow you to use WhatsApp.
Starting from February 2021, it will be mandatory to share data with the company, for this social media giant has been alerting users in India about the update of its terms of service and privacy policy.
The update includes an "Information You Provide" section in the privacy policy. It has details on what data will be collected from WhatsApp users and how it will be shared with other third parties and Facebook products.
Automatically Collected Information:
"Automatically Collected Information" is one of the sections in the updated policy which includes all the information which WhatsApp collects from its users.
List of Information collected:
Hardware model of your phone, operating system information, battery level, signal strength, app version, browser information, mobile network, connection information (including phone number, mobile operator or ISP), language and time zone, IP address, device operations information, and identifiers are the list of information that Facebook collects from WhatsApp users.
Policy states as "Even if you do not use our location-related features, we use IP addresses and other information like phone number area codes to estimate your general location (e.g., city and country)."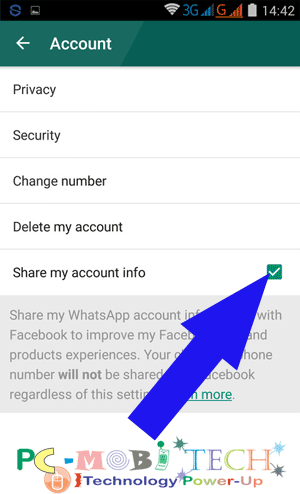 Losing WhatsApp account:
Originally it was the case with WhatsApp that users choose whether to share data or not. But as per the new policy now sharing data is a must otherwise your WhatsApp account will be removed and the users will not be able to access the account.
The original and old WhatsApp policy states that "Respect for your privacy is coded into our DNA" but this logo can not be found now.
How useful was this article?
Please rate this article
Average rating / 5. Vote count: