Chakkar is an upcoming film starring Ahsan Khan, Neelum Muneer, Javed Sheikh, and Yasir Nawaz. The film was produced by the famous couple Nida and Yasir, who directed films like Wrong No. and Mehrunisa V Lub U. Moreover, the film will be released on Eid-ul-Fitr 2022.
Story of the Movie :
This film is a very different kind of story that has never been made in Pakistan, and it is a mysterious killing thiller. With a trailer, the film gives a whole vibe to the murder mystery, and all the characters seem to be in a precarious situation. However, the fans are very excited.
The Cast of the Movie Chakkar :
Neelam Muneer
Ahsan Khan
Yasir Nawaz
Javed Sheikh
Ahmed Hasan
Mehmood Aslam
Naved Raza
The long-awaited trailer for "Chakkar" has just been released. According to the clip, Chakkar will be entertaining in a never-before-seen way. The play features Neelam Muneer and Ahsan Khan with various bodies, fun, action, and romance. Ahsan Khan spoke about the film. In his own words: "It is the secret of killing aloud. Full of conspiracy and skepticism. Moreover, this will be the first film of its kind in this Pakistani film of the new era.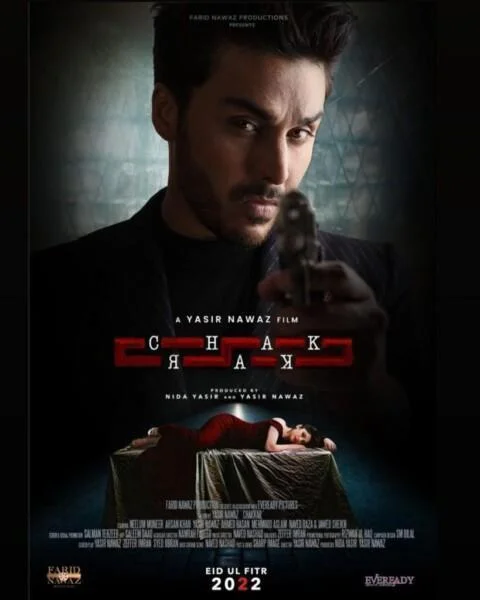 The Movie Chakkar: More Details
Actor Yasir Nawaz directs the film. Yasir Nawaz directed such hit films as Wrong Number, Wrong Number 2, which featured Sami Khan and Neelam Munir in lead roles. Another hit movie Mehrunisa V Lub U. Yasir Nawaz produced the film, and Nida Yasir, both of whom had previously been produced, was successful in their production business.
The trailer is full of action, drama, romance, and skepticism. The upcoming film features actors including Ahsan Khan, Neelam Muneer, Yasir Nawaz, Javed Sheikh and many more. The film was produced under Farid Nawaz Productions and the Eveready Group of Companies banner.
Release Date :
The Movie Chakkar will release on Eid-ul-Fitr 2022.
How useful was this article?
Please rate this article
Average rating / 5. Vote count: