Pakistan's Syed Imaad Ali has won the World English Scrabble Players Association (WESPA) Youth Cup in Karachi. WESPA was previously known as the World Youth Scrabble Championship.
The 15-year-old defeated his opponent in 9 of 13 games, which helped him finish the tournament where he started. Meanwhile, another Pakistani named Hasham Hadi Khan, who qualified for the finals with 26 wins, secured fourth place after winning seven games.
Syed Imaad Ali won the top spot by earning an early lead in the tournament with 11 wins and one tie after completing the first 12 rounds.
Syed Imaad won the 2018 championship in Dubai.
His success made him the first and only player to win the World Youth title twice. Syed Imaad had previously won the 2018 championship in Dubai, also won the Junior World Scrabble Championship in Torquay, England, in November 2019, and was also the youngest player to do so.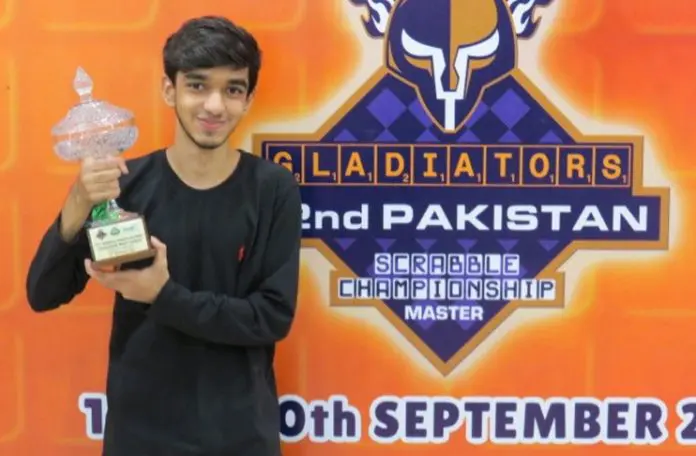 President Nadeem Omar announced a prize of Rs 100,000 for Imaad
Except for Imaad and Hasham, two other players from Pakistan, Ali Salman and Usman Shaukat, remain in the top 10 until the final round of the WESPA team. However, they were both knocked out of the top 10 after losing their last games. Pakistan Scrabble Association (PSA) President Nadeem Omar announced a prize of Rs 100,000 for Syed Imaad Ali .
Second time claiming the top spot of the tournament.
Pakistan has secured the right to host the second annual Youth Cup event. The much talked about competition has been held annually since 2006 in various parts of the world. The match was put on hold in 2019 due to the spread of the coronavirus epidemic.
The country has also offered to host the 2020 online program for the first time to ensure that every player was monitored and the games were pretty balanced. WESPA has granted hosting rights in Pakistan, and the first championship took place in 2020.
President of Pakistan Scrabble Association and the owner of PSL franchise Quetta Gladiators
The President of the Pakistan Scrabble Association and the owner of the PSL franchise Quetta Gladiators, Nadeem Omar, distributed the awards among the winners, congratulated the best players, and called for the introduction and development of sport at the school level to produce world champions.
Furthermore, He said, "Pakistan is performing amazingly with the chaos because this is not the government's involvement in it. Sports have ended in Pakistani schools and are the only reasons Pakistan has a bad reputation in sports and athletics. "
Also Read: Talha Talib becomes a national hero due to performance in Tokyo Olympics
How useful was this article?
Please rate this article
Average rating / 5. Vote count: