Pakistan Cricket Board (PCB) to continue PSL 6 matches:
The wait is over! PSL 6 is back with full-time entertainment and enthusiasm. Great news for cricket lovers as well. PCB announces to restart the remaining matches of Pakistan Super League from 1st June 2021. Also, games will be held as per the schedule issued by PCB. Furthermore, all the partners intend to perform in Karachi. The final match is scheduled for 20th June 2021, respectively.
PCB Implements Some Conditions to all the Participants of PSL 6:
The Sixth Edition of the Pakistan Super League is resume due to the third wave of the Covid-19 outbreak. PCB stops the league right away because many cricket participants are diagnosed with corona positive in March. Before the resumption of PSL 6, about 14 matches were performed between the period of 20th February to 3rd March.
Saturday, the virtual Conference of PCB was held, at which the board decides to proceed with the remaining matches and strict obligation of all the sops. For the safety of indoor and well foreign players, PCB appoints the fact-finding panel to consist of two persons who ensure that the environment is bio-safe and protected. Also, this panel makes sure to make all the arrangements for the re-organization of PSL 6. Moreover, all the players must make themselves quarantined at least seven days before the safety purpose.
Schedule of Remaining PSL 6 Matches:
The schedule for the remaining matches of PSL 6 is as follows:
1- Islamabad vs. Lahore (Night)
2-Karachi vs. Multan (Night)
3-Quetta  vs. Islamabad (Night)
4-Peshawar vs. Lahore  (Night)
5-Islamabad vs. Karachi (Day) & Multan vs. Quetta (Night
6-Peshawar vs. Karachi (Night)
7-Quetta vs. Lahore (Night)
8-Multan vs. Peshawar (Night)
9-Islamabad vs. Lahore (Night)
10-Quetta vs. Karachi (Night)
11-Multan vs. Islamabad (Night)
12-Quetta vs. Peshawar (Day) & Karachi vs. Lahore (Night)
13-Islamabad vs. Peshawar (Night)
14-Multan vs. Lahore 9Night)
16- Qualifier round (Night)
17- Eliminator Round 9Night)
20- Finale.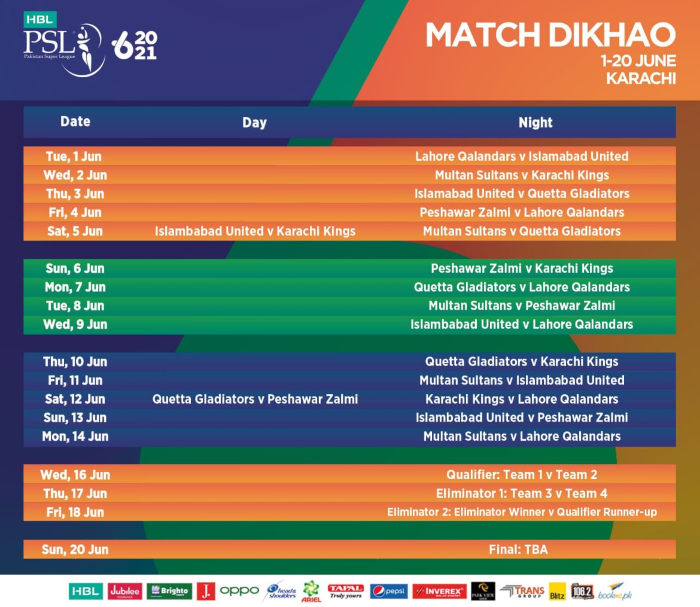 To sum up:
the month of June is sweltering in Karachi, so that that full matches will play at night time. PCB ensures to provide a safe atmosphere for the games. Furthermore, Pakistanis are eagerly waiting for PSL 6 to resume so that the fun starts again. All the PSL teams are also looking forward to getting on the ground and showing off their versatilities.
How useful was this article?
Please rate this article
Average rating / 5. Vote count: