Recording-breaking decline:
Huawei is a Chinese multinational technology company. Their headquarter is in Shenzhen, Guangdong.
During the pandemic all the tech industry managed to stay up but still there was decline in global Smartphone production. It was reported by TrenForce that in 2020 there was almost decline of 1.25 billion units in the global smartphone production. There is a record-breaking 11 percent year-on-year decline in the global production.
It is expected that these numbers will further decline upto 1.36 billion in the year 2021. During this dire situation it is also expected that Huawei will fall from the top 6 rankings.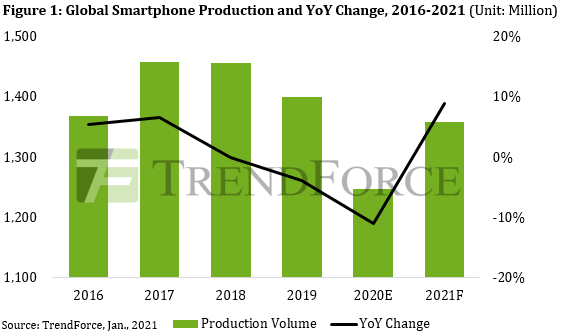 Top 5 Smartphones of 2020:
In 2020, in terms of smartphone production following companies occupied the top positions: Samsung, Apple, Huawei, Xiaomi, and Oppo respectively. According to many experts there will be rise in the production of smartphone in 2021, but Huawei is expected to fall from top 5 position.
US banning Huawei sales:
The reason behind Huawei decline is US ban hindering the Huawei's sales in the country and other reason is its separation from its sub-brand Honor. Honor now operates independently from Huawei.
Honor competing the global market:
In order to face various US sanctions against the company and to ensure its survival, the company sold its budget smartphone subsidiary. Now Honor will compete with its former parent company Huawei in the global smartphone market.
Huawei will have to face many hardships in order to regain its smartphone market share.

In conclusion:
Now for 2021 the top 6 brands, which will make almost 80 percent of the global smartphone market includes Samsung, Apple, Xiaomi, Oppo, Vivo, Transsion. There still be 9 percent rise in unit production of global smartphone industry in 2021.
How useful was this article?
Please rate this article
Average rating / 5. Vote count: