ISLAMABAD: The federal government has announced a three-day Eidul Azha holiday.
On Monday, the Federal Govt has officially announced Eidul Azha's three-day holiday. They added that the state holiday would be July 20, 21, and 22.
Sources say the Govt has approved a summary of the three-day holiday. In addition, government officials will be required to attend the third day of Eid.
According to the Ruet-e-Hilal Committee, Pakistan will celebrate Eid on July 21. The decision was announced following a meeting of the assembly held in Karachi to explore the area.
The provincial and regional committees in Ruet-e-Hilal also met simultaneously at their headquarters to observe the month of Zilhajj.
Eidul Azha recalls the Quranic legend of the Prophet Ibrahim's willingness to sacrifice his son as an act of compliance to Allah before the Almighty took the place of a son with a ram to be offered in his place.
Later on Tuesday, an official notice was issued confirming the holidays.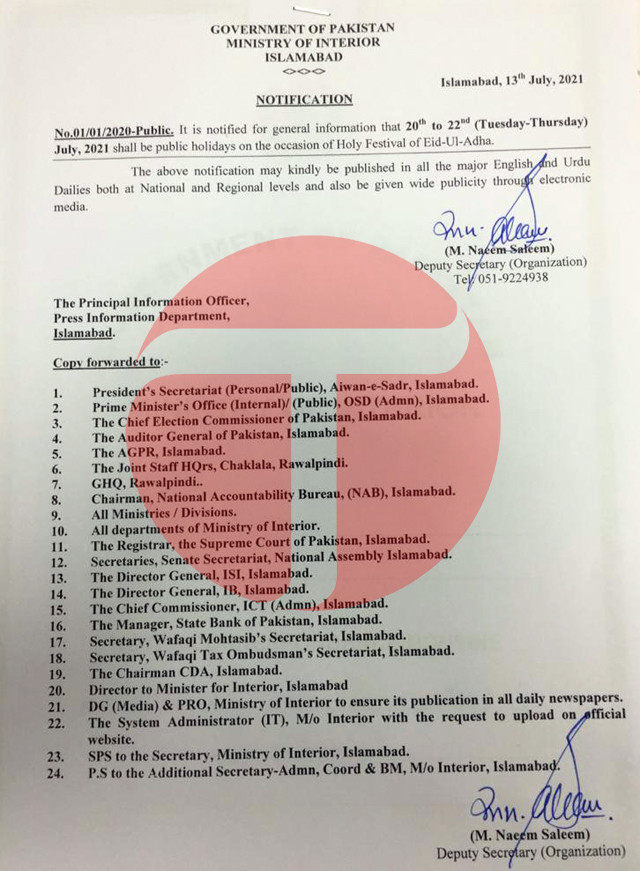 Earlier, viral news suggested that the Eid holidays would run from July 21 to 23, but Islamabad's Deputy Commissioner for Islamabad, Hamza Shafqat, declared the announcement untrue.
Govt employees expecting longer holidays
On the other hand, government officials were hoping to get nine days of Eid-ul-Adha this year. According to the official Saudi government account on Twitter, Zil Hajj's Crescent month has not been seen in Saudi Arabia, So Zil Hajj's first day will be July 11, while Eid will be July 20. According to the report, the Eid holidays in Pakistan are expected to begin on Saturday, July 17.
With the Hajj holiday coming on July 20, followed by the Eid-ul-Adha holidays on July 21, 22, and 23, government officials were expecting nine days off. Offices are expected to open from July 25.
How useful was this article?
Please rate this article
Average rating / 5. Vote count: