The best Pakistan's flagship smartphone, TECNO mobile, has the latest series, "Camon 18". While the whole product series is good, some differ in specs, and the recently released three-dimensional CAMON 18 series, is noteworthy. As this article compares the features of this series, you can rely on it if you are curious about which series to buy. The smartphone Featuring amazing software features and beautiful design will impress. The series includes Camon 18 Premier, Camon 18P, and Camon 18T, all unique characteristics. As a first step, let's examine their activities.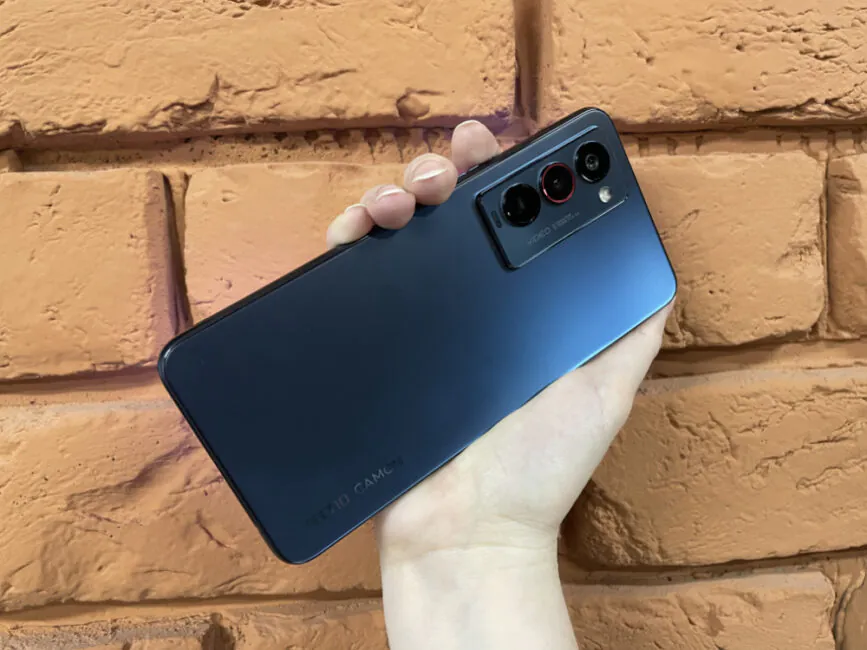 CAMON 18 Premier :
The new device, Camon 18, offers a comfortable feel because of its premium features. In addition to providing a high-quality photography experience, this device is equipped with the Gimbal Camera System for PKR 55,999. With TECNO's special TAIVOS technology and 60x Hyper Zoom, the Camon 18 Premier lets users capture stable videos and beautiful images. Other impressive features include the 120Hz AMOLED Display, 32MP front, and 64MP rear cameras, G96 speed processor, and 8 + 256GB storage. Additionally, the sleek phone body design and style make it stand out in the market thanks to two amazing colors, Ocean Moonlight, and Summer Breeze.
Colors:
Camon 18 Premier is available in two unique colors: ocean moonlight and summer breeze.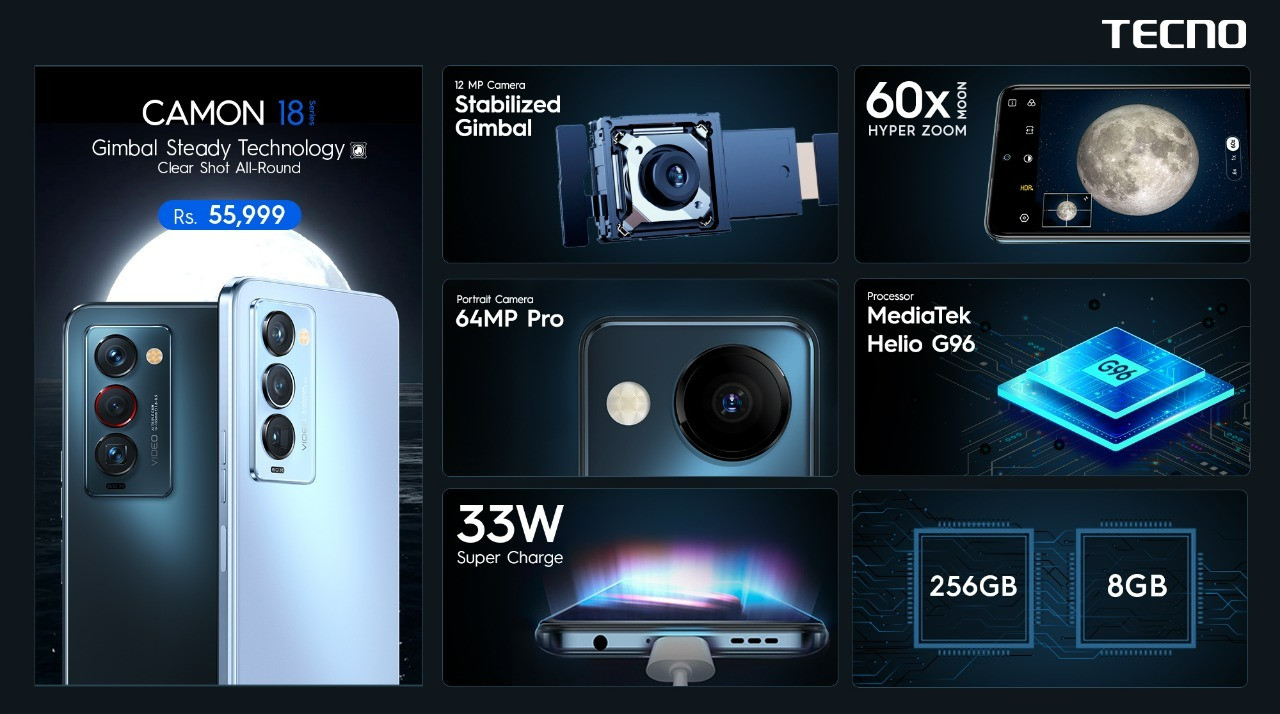 Classy Camon 18P :
Teens will find the Camon 18P a great choice, as it offers many unique features. At PKR 34,999, the Camon 18P smartphone features a 120Hz FHD Display, G96 Processor, 16MP front and rear 48MP rear camera, and a 50mm long lens to capture the best photos possible. Although the sleek design makes it classy, the phone is ready for everyday use.
Available Colors:
Camon 18P phone is available in Dusk Gray, Iris Purple, and Ceramic White colors, making it even more appealing.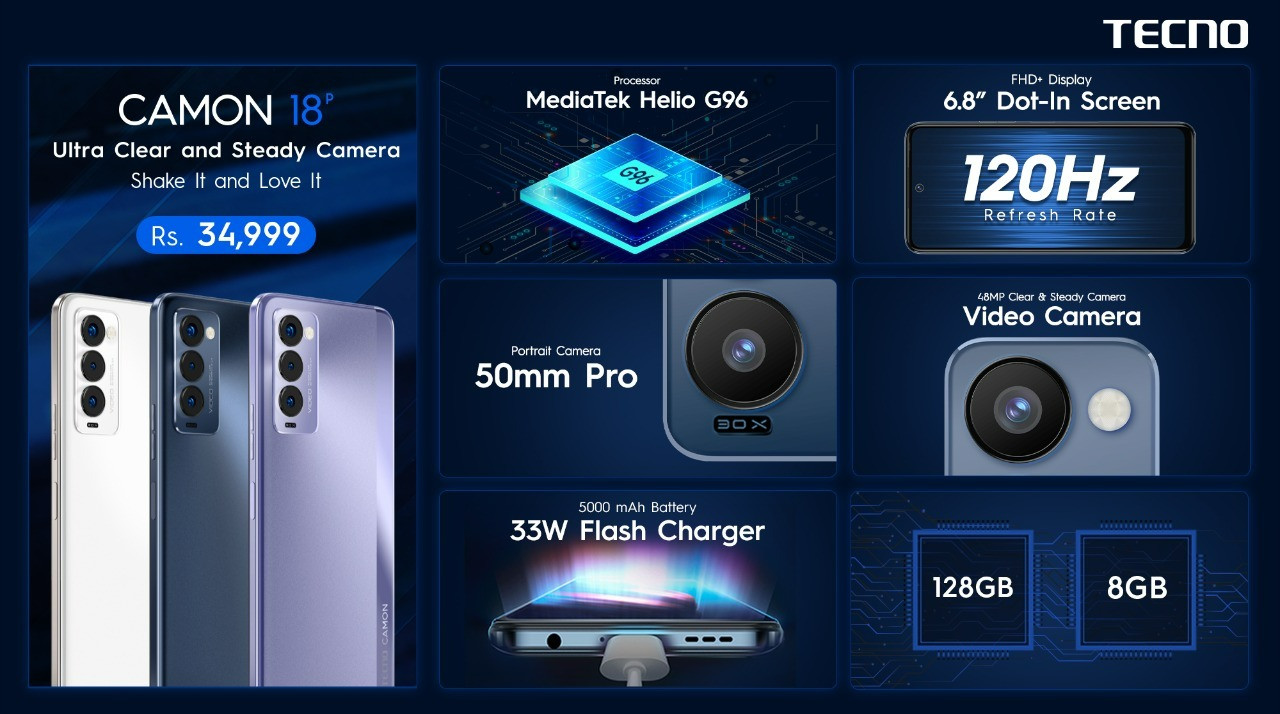 Remarkable Camon 18T :
The smartphone brings a 48MP Selfie camera and a 48MP rear camera, and the Camon 18T is a great option for those looking for a budget smartphone with advanced features. This phone is also equipped with a remarkable G85 processor for gaming, 4 + 128GB storage, 1080 FHD clean display, and much more.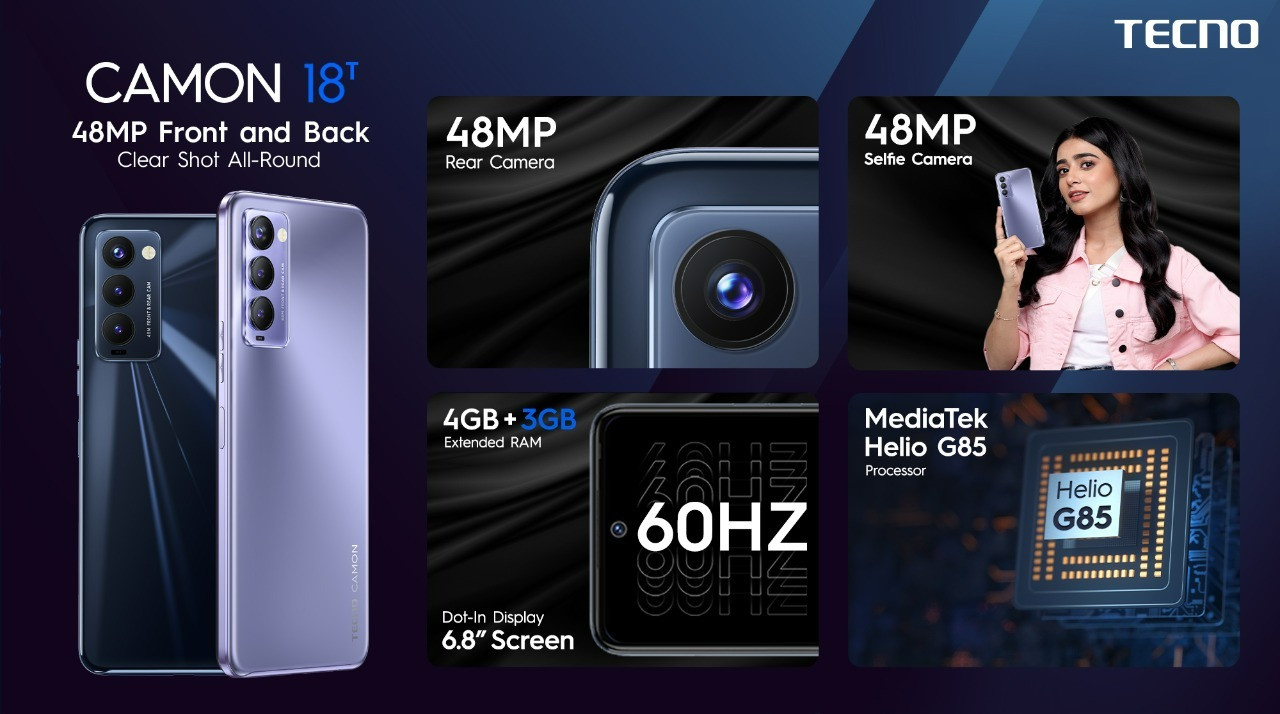 How useful was this article?
Please rate this article
Average rating / 5. Vote count: