Azfar Rehman and Ariba are two prolific actors who have been popular for years due to their brilliant acting skills and a good selection of projects. The plays Nazar-e-Bad and Aatish added a lot to Azfar Rehman's popularity. Jalan and Koi Chand Rakh famed to Ariba Habib.
Azfar Rehman shares the news of an upcoming drama serial:
The two actors will be teaming up for Arya Digital's upcoming drama serial Rukhsati. Moreover, Azfar Rehman spoke about the drama, telling his fans that the drama serial Rukhsati has an amazing cast, including Ali Abbas and Rabab Hashim. Ali Abbas and Rabab Hashim are also very talented actors and have earned the following and fame of good fans. Azfar said that he is playing a role opposite Areeba Habib in this. "I have not worked with ARY Digital for a long time," he said. I could not refuse when Abdullah Seja and Adil Suri approached me about this great initiative, and I could not refuse. The narration is awesome, and the cast is impressive. The characters include Atika Odho, Javed Sheikh, Rubina Ashraf, and Gul-e-Rana.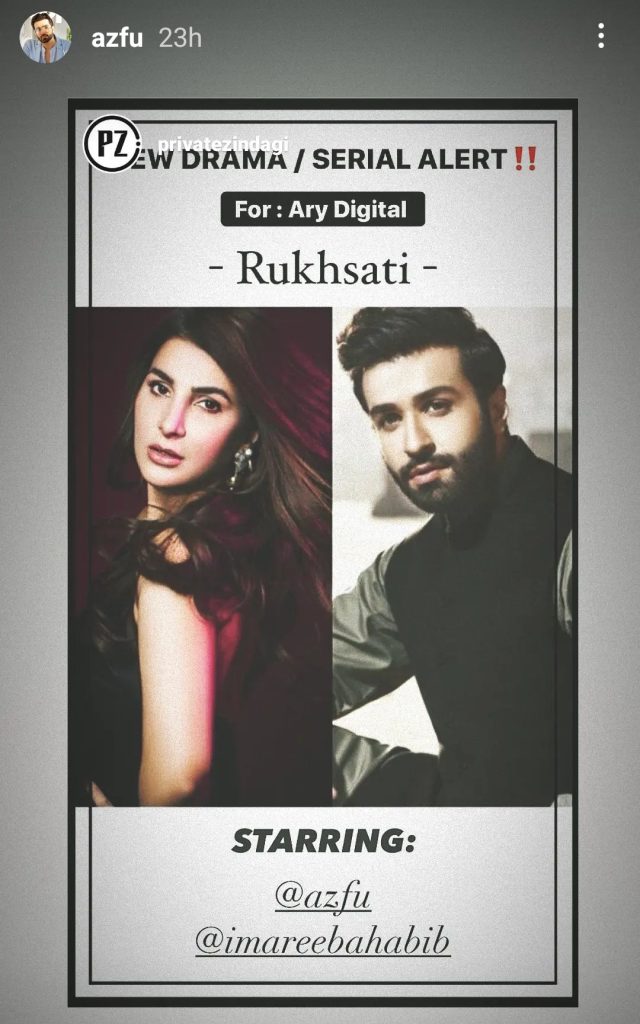 The cast of Drama Serial Rukhsati :
Atiqa Odho
Javed Sheikh
Rubina Ashraf
Gul-e-Rana
Azfar Rehman
Ariba Habib
Ali Abbas
Rabab Hashim.
Director:
Tehseen and Saqib Khan direct the drama Rukhsati.
More Details:
Azfar talked about his relationship with Habib, describing him as a very close friend. This is not the first time the actors have worked together. In the 2019 drama Kadam Kadam Ishq, they both played the role of a university student in a love story. According to Rahman, Rukhsati will be airing on ARY Digital soon.
Azfar Rehman Comeback as a TV show host :
The actor appears regularly on TV One to host his new Morning Show The Morning Star. "It's already aired. We're trying to make some changes in the format of the Morning Show." The show has seemed unfocused in recent episodes, including the movie 'Promotion' and the general kitchen section. "We're trying to make it look very light, digestible, and easy to play," Rahman said. "I started on TV One, and I've been a host for a long time, but I did not host anything after Miss Veet Pakistan. I'm very special about the shows I host. You are influencing the whole country through a performance. "
How useful was this article?
Please rate this article
Average rating / 5. Vote count: